Left Seville behind and we entered into Lisbon of Portugal. The journey took up the whole morning and part of the afternoon and we got to the Baixa which is the Lisbon Downtown in the late afternoon. Along the way, we passed by a couple of monuments such as the Monument to the 1st Marquess of Pombal and the
Monument to the Restorers
.
The coach then drove through a stretch of road which Nancee said is the place for branded goods. Then it continued down another stretch which is for the more average goods. Finally we were let off at
Rossio Square
for the free evening and were to report back promptly at the stated time because coaches were not allowed to park at Rossio Square.
There were many small streets leading away from Rossio Square so Kim and I decided to take one of them and thought at the end of the street we could turn right and it would lead us to the next street in a systematic order so that we could cover most if not all of the Baxia. While walking to that small street, we took photo of the Statue of King João I in
Figueira Square
.
That small street we chose seem rather deserted except for the traffic and it was a rather long street with up slope. Decided to make a right turn to get to the next street and we seem to be lost. Wandered around the different streets and most of the shops were closed. So Kim and I assumed that they were closed for siesta. Then we saw many people opposite of the street we were at and thought maybe there was a bazaar there so we crossed over to check things out.
There were lots and lots of people crowding both sides of that street and they were holding flowers and candles in their hands. They looked like they were expecting something to happen. We walked further up the street and it got more and more difficult to get through. It was then we saw the
Santo António Church
, the place where Saint Anthony was born and very close to it is the
Lisbon Cathedral
. It was then we realized that there could be some religious things going on.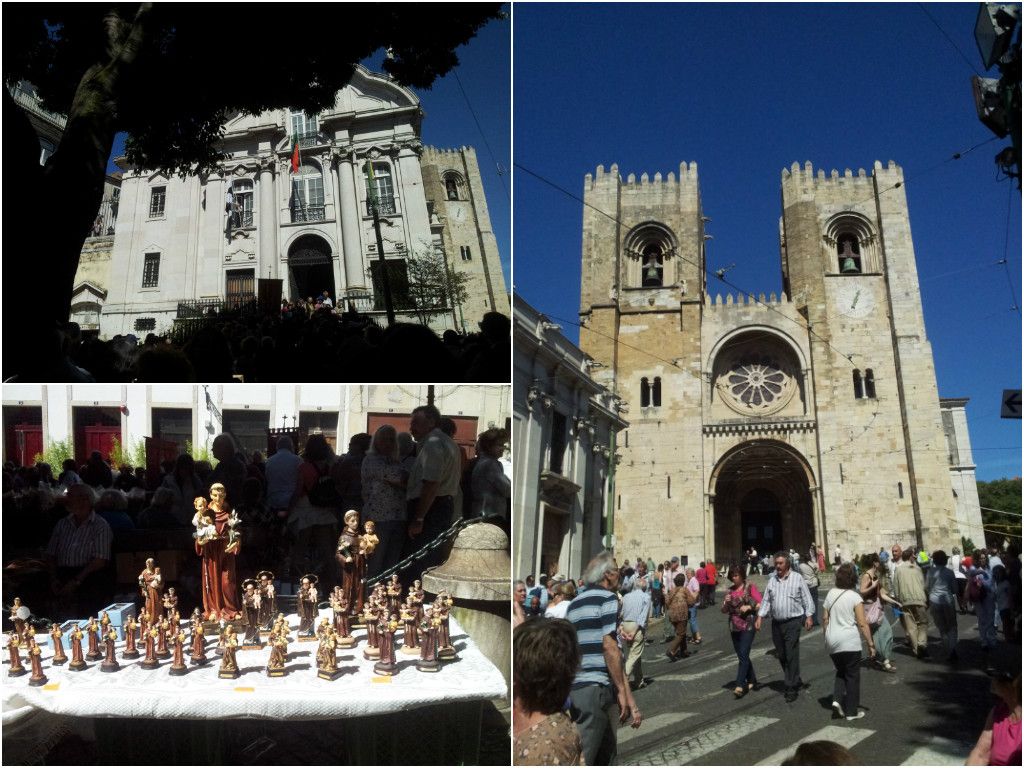 Squeezed our way back to where we came from and along the way saw some stalls selling candles, flowers and figurines of Saint Anthony. Took a quick snap and hurried along. Bumped into Nancee at one point in time and she was telling us that a café called Nichola, which is near the Rossio Square, sells very good Portuguese egg tarts. Finally got to a wider street with more shops and eating places but still most shops were closed. Saw a café called Sao Nicholau and remembered what Nancee said. So popped into the café and happily bought two mini egg tarts each. While taking photos with egg tarts and the café, we saw the old couple, Mr and Mrs Goh. They were sitting outside that café and Mrs Goh was eating a big box of fruits, commenting how cheap it was.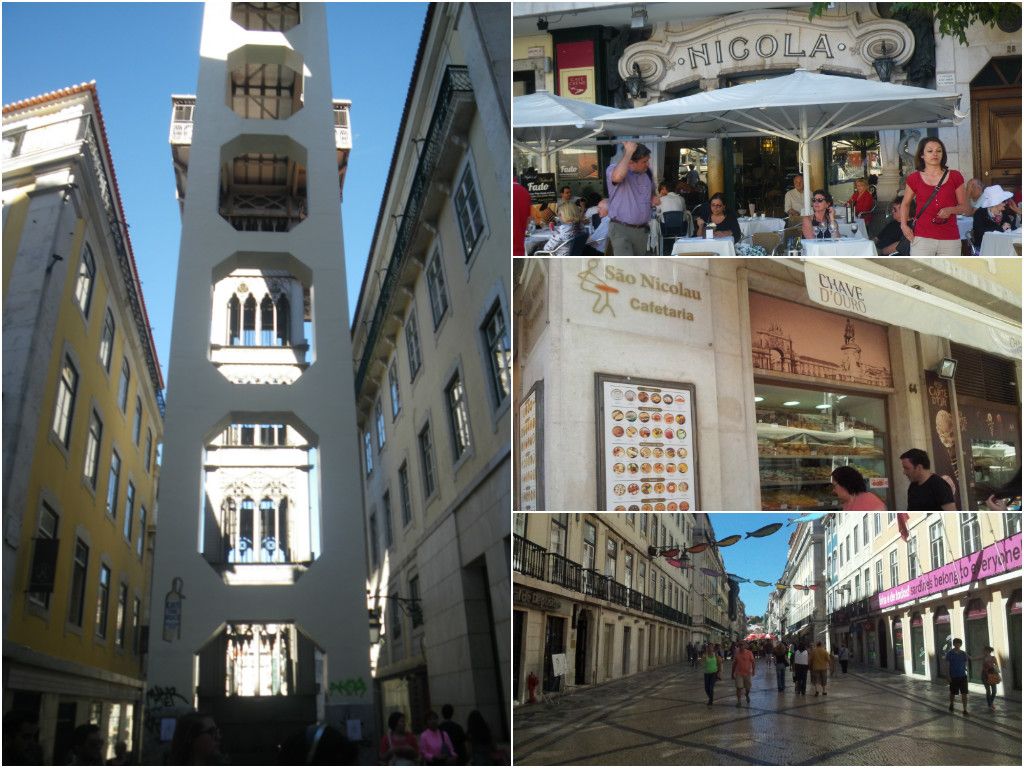 We ate our egg tarts as we walked and went into those shops that were opened. Went into Mango and a couple of other shops and Kim managed to get an item or two while I got nothing. I think the problem with me was that the style didn't suit me. Popped into another shop and we walked separately again. Went to try on a couple of clothing and after I came out, I couldn't find Kim. I walked around the shop a few times and still no sight of her. So instead of waiting around in the shop, I decided to just go ahead and ventured around Baxia on my own. Saw an elevator structure called the
Santa Justa Lift
in the middle of Baxia and took photos of it. It was interesting to see that in the Downtown of Lisbon. Due to time constrain, I didn't go nearer to check it out. Walked a little bit more and tried to find my way back to Rossio Square. Along the way, saw a café called Nichola, I then realized that perhaps that was the one that Nancee was talking about because she said it is near Rossio Square.
Crossed the street to Rossio Square and took photos of the fountains and the surroundings which include
Theater D. Maria II
. Then Kim called out to me and I explained to her that I couldn't find her in the shop that was why I left, thinking that maybe she went off on her own. She said that she was actually in the fitting room and told me that next time if we went off separately, we would get back to the designated meeting place at the stated time. Agreed. When the rest of the group gathered back, Mrs Chia complained that she wasted time walking over to the stretch of branded shops because most if not all were closed. Some other members were also complaining that a lot of shops were closed. Nancee came along and then explained to us that she only found out that today was a religious holiday. That explained why many shops were closed and traffic was light because many people took leave to get long holiday given that last Monday was their National Day. The coach came; we boarded the coach and went for our Chinese dinner. Compared to the other Chinese dinner we had, this was by far the best. There was a playground outside the restaurant and the group members occupied themselves with it while waiting for the coach. What an interesting sight.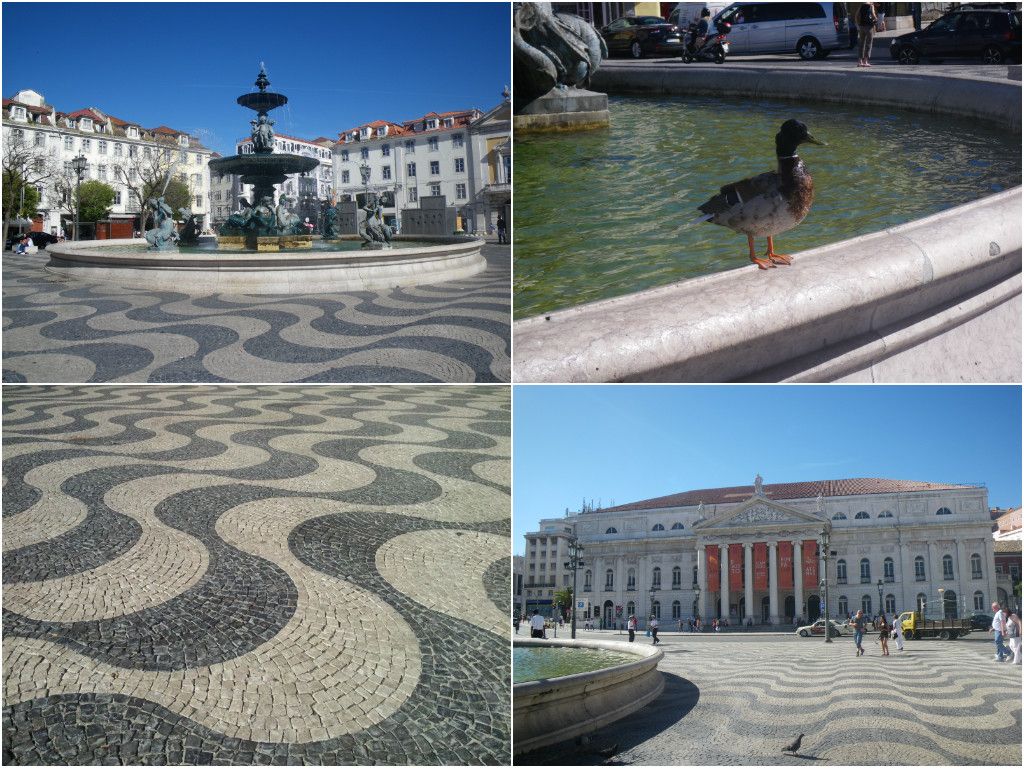 Returned to the hotel and did the usual routine. Asked Kim if she wants to join the optional tour or go back to Baxia on our own and her answer was to join the optional tour because going back to Baxia means we have to figure out how to get back to the hotel on our own. I hesitated to agree with her but she has a point so reluctantly I set aside the sum of money for the optional tour.
Thoughts: From maps, I know Spain and Portugal are next to each other, little did I know that traveling from Seville to Lisbon would take so long. Lisbon Baxia was another lively place to be with many shops and eating places. It was just so unfortunate that today was their religious holiday and we didn't get to shop a lot. Nevertheless, I still enjoyed myself immersed in the sight and sound of the Baxia.