Woke up at 6+am and messaged little big sis while waiting for Kim to be done with the toilet. After she came out, it was my turn to prepare for the day. We went for breakfast at 7am and then left the hotel with the group at 8am for the half day city tour around Barcelona. We met the local guide who boarded the coach and gave us information such as history and culture of Barcelona and buildings in Barcelona as the coach cruised through the city. We had a few photo stops and the first was somewhere near the Las Arenas Shopping Mall which used to be a bullring. According to the local guide, bull fighting is banned in Barcelona although some other cities still have it and bull fighting only occurs in certain months such as July.
Then we boarded the coach again to go up to Montjuïc Hill and along the way, made another photo stop at the Olympic Stadium. Continued to the top of Montjuïc Hill and from the top we could see the
Port of Barcelona
which consists of Port Vell and the Industrial Port. Saw a sculpture depicting the
Sardana dance
also known as the Barcelona Catalan Dance while on the way up so Kim and I quickly went over to take photos before the rest of the members came crowding.
We left the Montjuïc Hill to continue with the city tour briefly before going to see the
La Sagrada Familia
, a Roman Catholic Church, designed by Antoni Gaudi. Along the way, the local guide provided more information which I could not remember much now coz it was really information overloaded. We passed by Casa Batlló, Casa Milà (La Pedrera), The Arc de Triomf and so on but I couldn't take any photos coz they weren't on my side, so I depended on Kim to take them. La Sagrada Familia is a church with a very unique design and very interesting to see sculptures of fruits as part of the design.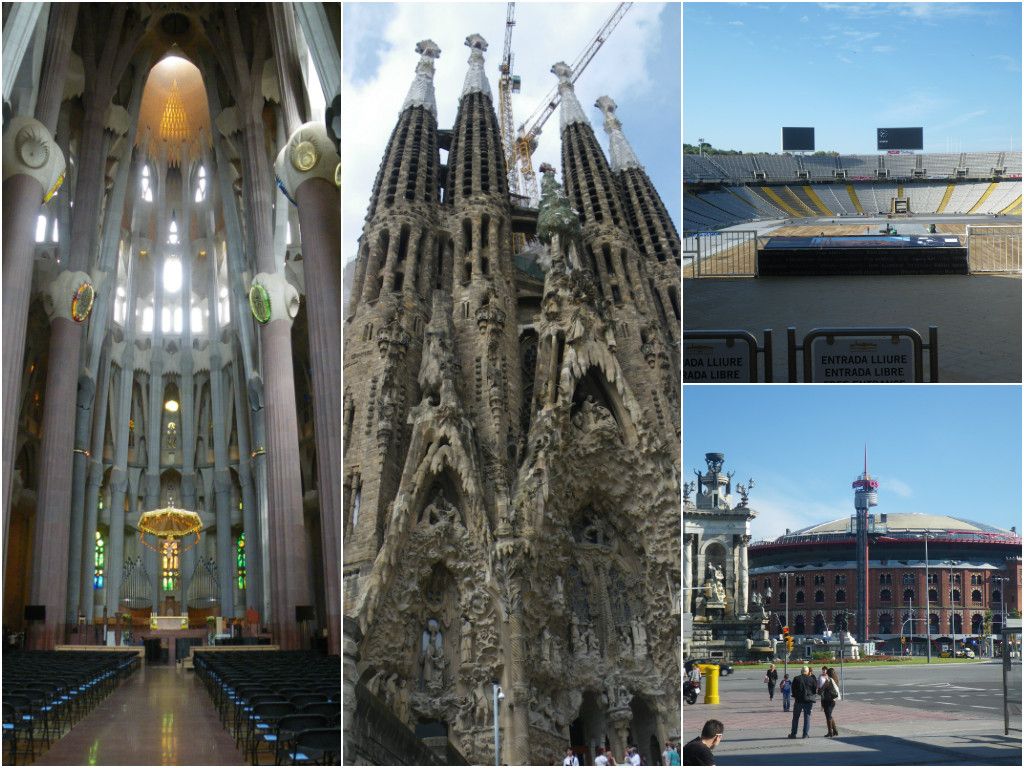 We were told that different parts of the exterior design represent different things and mainly to tell the story of God, Mary and Jesus. The ceilings and columns inside the church mirror trees and branches. Local guide continued to explain while we moved around the church but again I couldn't remember most of the details now. Tried to take photos but most didn't turn out well coz the shutter speed was slow and I had to keep up with the group. Finally we were done with La Sagrada Familia and we proceeded to Barcelona Cathedral where we were only there for photo stop. While we were there, we saw church goers dancing the Sardana dance after their Sunday service. Managed to take a few shots and filmed short video clips of the dance before moving off to have our lunch.


Arrived at
Port Olímpic
and we were shown the beach, the golden fish sculpture named
Peix
, the twin tower –
Hotel Arts
and
Torre Mapfre
before heading to a restaurant for our seafood lunch. We were told that it consists of seafood salad, main course of prawns and mussels follow by coffee or tea. Kim and I sat with the couple Madeline and Alan. There were bottles of red wine on each table but we didn't drink. The salad came followed by dishes of seafood such as fish, squid and so on and we shared amongst ourselves. The portions were big and at the end of it, we thought we were already done with lunch until they came out with the prawns and mussels. We thought it was going to be shared but turned out that it was each person a plate. Many of us were already quite full at the end of the seafood salad and so we tried our best to at least finish the prawns. Had espresso at the end of it before leaving the place to go to
Montserrat
, the optional tour.
We were told that the Montserrat is a multi-peak mountain and located on the mountain is an abbey called
Santa Maria de Montserrat
which houses the
Virgin of Montserrat
also known as the Black Madonna. Many people from Catalonia will hike overnight or cycle up to go to the Abbey for Sunday Service or stay there for a few days to experience life living in a monastery. We were also told that the Virgin of Montserrat didn't use to be black but because of the years of smoke from the candles, it turns black. Many people are willing to queue for a long, long time just to walk pass and pray to the Black Madonna. As the place we were going is of high altitude so Nancee and the local guide told us that we might want to prepare a light jacket. I was glad that I threw the red flannel shirt that I got from Korea last year into the luggage at the last minute so I used that as my light jacket.
Reached the place, got off the coach and it was indeed chilly. We passed by a lot of stalls selling their local products such as cheese, honey, olive oil and some snacks. I was tempted to get the snacks to try but they didn't come in small packaging.There was a tram station called
Funicular de la Santa Cova
and we saw a tram bringing people up to the upper part of Montserrat. The Abbey was some distance upslope and most of the members went to the toilet so Kim and I walked ahead to take some photos.
After everyone gathered together, Nancee and the local guide told us that we could have F&E time and those who are the more religious ones might consider queuing to see the Black Madonna. The local guide warned us that at times it could take up to 45 minutes to an hour just to see the Black Madonna and we were only giving a couple of hours of free time. So Kim and I decided to just explore on our own. We went into the Basilica and there were a group of people singing near the altar. So we went to sit on one of the benches to listen and also to look around the Basilica, taking photos and recording the singing. Then a few from the group started dancing to the song. It was quite enjoyable watching them sing and dance.
After some time, we left the Basilica and explored other parts of the monastery. Browsed the souvenir shop and I bought a small bottle of olive oil in glass bottle. Came out of the shop and I saw a footpath leading to higher ground which the local guide said people actually hike up to the upper part of the mountain. We wandered around, snapping photos here and there.
Soon it was about time to go so Kim and I took a slow walk back down to the car park and along the way; we stop by another shop where I bought a small rosary. We gathered back at the coach and returned to our hotel. Dinner was not provided and it was only 6+pm when we reached the hotel. According to Nancee, most eating places would only be opened about 7+pm or 8pm onwards. Our coach drive, Pehpeh, was very nice. He showed us the direction where we could find some food places still open. So Kim and I headed out to hunt for dinner without going back to our hotel room. Managed to find two or three shops and we finally settled on one of them. As the menu was in Spanish and neither of us knew how to read, we had to resort to guessing, especially when the staff could not converse in English.
So in the end, we chose the safest food and that was pizza. I saw people eating churros dipped in thick chocolate and I ordered that thinking that the chocolate came with the churros by default. We had to wait half an hour for our order to be ready so we sat in the shop and fiddled with our mobile phone. Finally, food was ready and during payment, Kim added a doughnut and I realized that the staff didn't give me the thick chocolate. So I assumed that take-away churros don't come with thick chocolate. We brought our food back to our hotel room and we ate. While eating, a thought struck and that was perhaps, I should have specified that I want the churros with thick chocolate and not just churros alone. Fortunately, the churros tasted good on its own, a pity I was too full to be able to finish all of them.
Thoughts: One thing I realized in Barcelona, similar to the few other European countries that I have visited, there are proper cycling tracks for cyclists. Also there is this bicycle rental services such that anyone who resides in Barcelona with a valid bank account can get a monthly card to use the bicycle rental service. The person can just obtain a bicycle at one of the many designated kiosks which is essentially a row of rental bicycles and then return it at a nearby kiosk that is close to his/her destination. How cool is that!
As for the city tourI find the design of La Sagrada Familia very interesting and it would have been good if we were given more time to admire the structures and take good photos of it.
Montserrat… Might have been really good place to explore; unfortunately we didn't have the time. I could have queue to see the Black Madonna, wandered around the Basilica to take nice photos, sat inside to enjoy the singing and dancing, walked around the surrounding and maybe even hike a little just to get a good view of the rest of the lower ground.