Since the check-out time was 11am, I slept in in the morning till 8+am. Washed up, ate breakfast and did some last minute packing then watched some TV. Finally left with my luggage to the main office at 10:30am and again I missed a turn and couldn't locate the office building. Fortunately, an uncle saw me and knew that I was lost so asked where I was going. Told him the name of the hostel and he directed me there. Got to the office, handed the key over and the staff told me that I could have just given them a call and they would help me with the luggage. Oh well…
Parked my luggage in the office and went out to Myeongdong Fashion Street to kill some time. Bought the coffee chocolate from Angel-in-us for Min and then went into SPAO and a couple of other shops. About 11+am, went into a random noodle house for lunch and turned out that it was Myeongdong Gyoja, another food shop in my list. After eating, went back to collect my luggage and lugged it over to the bus stop at Sejong Hotel. The bus came at 12:40pm and I reached Incheon International Airport by 1:50pm. Collected my air ticket and went to do my tax refund. Cleared the immigration and then walked around the airport. Went to the Korea Traditional Cultural Experience Center thinking that I could do one of the hands on but that day the crafts were either hanji painting or hand mirror. So stood for a while and watched the other people do before going into Lotte Duty Free shop to see what else I can buy but end up getting nothing.
There was a
parade of the Royal Family
and tourists were taking photos. I took some and managed to get a photo taken with the Royal Family. Went to the boarding gate and sat to wait for time to board at 3:50pm. The plane took off at 4:40pm and I watched The Amazing Spiderman and The Dark Knight Rises. This new Spiderman was nice, closer to the comic / cartoon version and Andrew Garfield is very cute with his messy hairstyle. Touched down at 9:40pm and BIL came to pick me up to go back to his place for the night.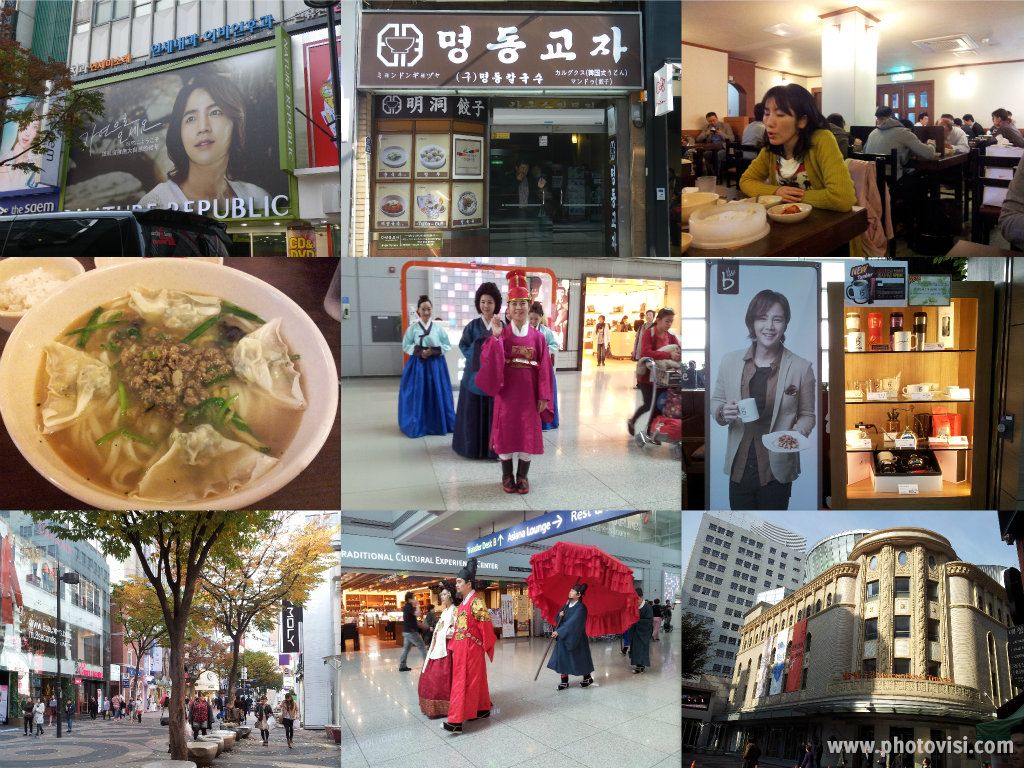 Thought: This whole 5D4N trip to Seoul is the first solo trip for me. The experience was good. My character is one that plans and plans down to the details if possible. I even printed maps and information such as what to check out in which area. But in the end, I didn't use much of the maps or follow the itinerary to a T. I just go with the flow and rearrange the itinerary as I deem fit. I didn't even follow the list of food places that I have compiled and just randomly pop into anyone that looks decent or ask the locals. It so happened that the ones I went into happened to be quite popular such as HwangSaengGa Kalguksu, Saram & Namu, Beautiful Tea Museum and Myeongdong Gyoja.
I was feeling very stressful and tired during the first couple of days of my trip because I was trying to pack a lot of activities per day. Then I realized that I shouldn't have to do that, it was supposed to be a relax trip, doing things at my own pace. Go where I like, see what I like, eat what I like, when I like. However, one thing I learnt is that never work full day even if the flight is a night flight. Have at least half a day rest before hand because one will not be able to have a good rest on the plane and the next day is going to be one day of activities.
Seoul is not difficult to walk on own, even though language is a problem, the locals are very helpful even if they don't speak English or speak minimal English. They are very happy if you can speak one or two simple Korean words or phrases. I remember a few occasions when I was buying food I said "Gamsahamnida" at the end and the sellers who were wearing straight faces broke into smiles.
I read from TripAdvisor that one needs to register with Olleh in order to use their network and charges apply. I didn't register since I didn't think that I will need to connect so often. However, Wi-Fi connections are plenty in a lot of areas and I was able to Whatsapp little big sis every now and then. I could even connect to Olleh network without registering with them.
Will I go back Seoul again? I think so but it will probably be in the Spring/Summer period where I can at least get some Summer clothing. Perhaps not so much shopping but more on sightseeing such as visit the Gyeongbokgung Palace again to cover the areas I missed, visit Changdeokgung Palace again to tour the Secret Garden; see Cheonggyecheon Stream by day; go to Bukchon Hanok Village in the morning as well as to cover other parts of Seoul such as the Gangnam area and Hongik area. So will I go back to Seoul again? Yes!
Click
here
for full set of photos