Saw a picture of a dish called "Chilled Cream of Pumpkin with Sweet Potato" by a local chef from a well-known restaurant last Thursday and it looked really nice. It had the purple sweet potato twirled on a plate of yellow cream of pumpkin soup. Was motivated to replicate the dish and so went on to search for recipes online. Found a few recipes on cream of pumpkin and saw one that was really simple to do so copied that down in my notebook. Went on to search for recipes on mashed sweet potato but I did not have time to study them in details therefore settled to try out only the cream of pumpkin this weekend. Went marketing on Friday and bought a small portion of Japanese pumpkin, a piece of top rump and a few other stuff. My plan was to cook beef noodle on Saturday and use the balance to cook stir-fry beef on Sunday as well as to try out the cream of pumpkin on Sunday.
Unfortunately, my plan was messed up due to some unforeseen circumstances, hence had to rearrange my meal plans. In the end, I came up with a 3-course meal consisting of Cream of Pumpkin, Pan-fried Steak and Sweet Mash Pumpkin. The second was a change to my original beef noodle and because I did not want to buy a broccoli just to use a small portion of it, I used choy sum instead. And since the cream of pumpkin called for potato as one of the ingredients, boiled the balance to go with the steak. The last dish, which was a dessert, was really something that came up impromptu.


Bought the other ingredients called for in the cream of pumpkin from the market and started cooking after breakfast about 9:30am. I thought I was going to take a long time to finish the cooking but I was done by 11:15am, including washing and photo taking. Whee! Was pretty proud of the cream of pumpkin because that turned out really well even though I modified the recipe a little by sauteing the onion with some olive oil, pre-boiling the pumpkin to separate the flesh from the skin and replacing thick cream with milk. Since I had some boiled pumpkin left, mashed them with a packet of MacDonald's fine sugar and surprisingly I got a very smooth consistency so used that as my dessert.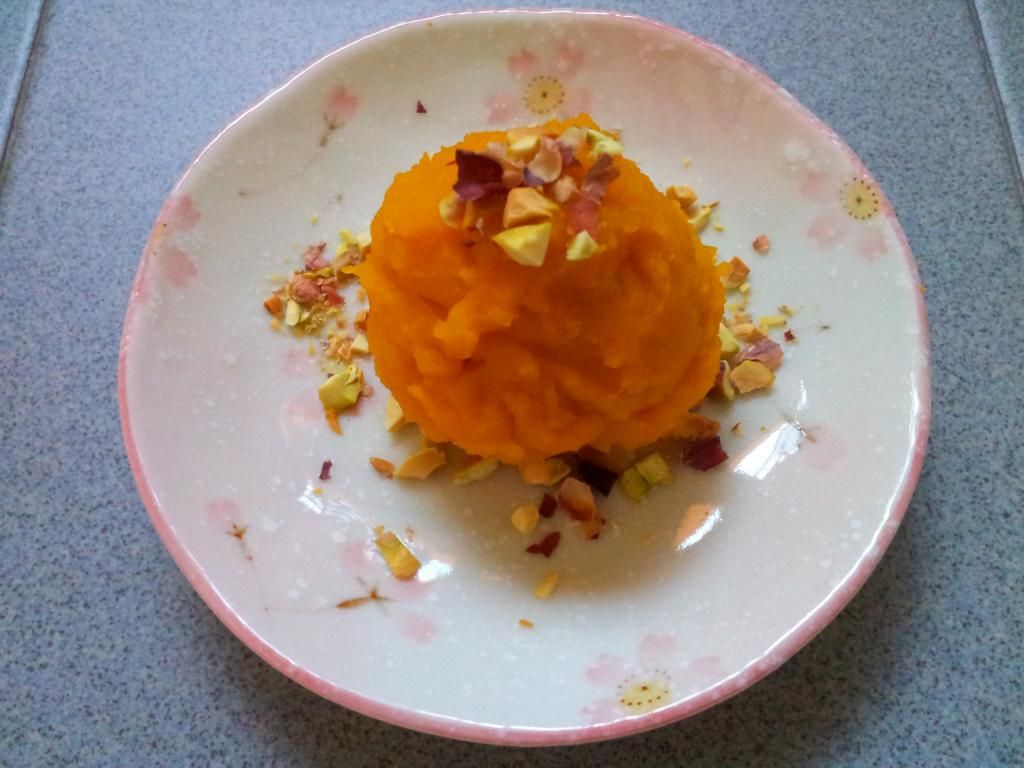 Sweet Mash Pumpkin
Overall, the 3-course meal turned out quite well and presentable given that I was improvising with limited resources. Heh…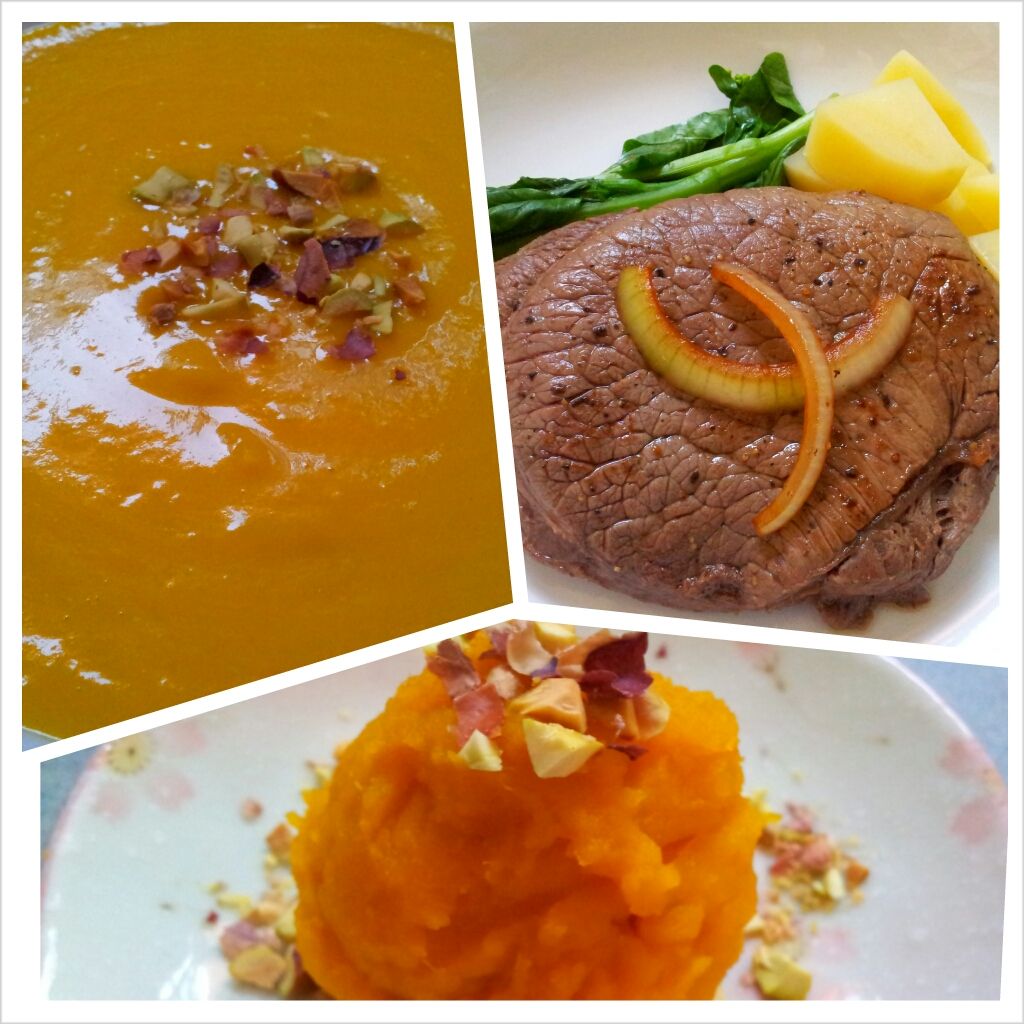 My 3-course Meal
Cream of Pumpkin (Serves 1-2)
Ingredients:
160g Japanese pumpkin, after boiling and skinned
50g potatoes, diced
1/2 medium yellow onion, diced
1/2 chicken stock cube, crumbled
160ml water
40ml milk
Olive oil
Salt
Method:
1. Sauté onion with some olive oil in a saucepan
2. Place all other ingredients, except milk and pumpkin, in the saucepan
3. Simmer until vegetables are tender
4. Add pumpkin and mash while boiling for another 3 minutes
5. Remove from heat and add salt to taste
6. Blend until smooth
7. Add milk and stir through
8. Garnish with chopped pistachio nuts
Note: The balance of the boiled pumpkin can be mashed with castor sugar while still hot/warm to be made into a dessert on its own.
Recipe for
Cream of Pumpkin
submitted to
Munch Ministry