Was browsing some posts on
Cuisine Paradise
by Ellena the other day on cooking with Kiwifruit. One particular post on
Kiwifruit compote
caught my attention and thought it would be easy enough to cook and eat with my yogurt. NTUC was having promotion on the Zespri Kiwifruit so bought two boxes of the green Kiwifruit at S$5.95.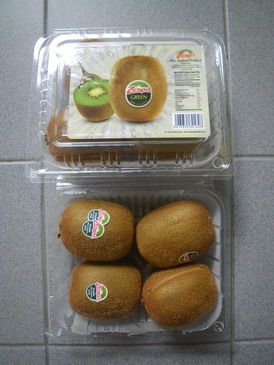 Followed the recipe as closely as I can but instead of using castor sugar, I used normal white sugar and instead of using the zest of one whole lemon, I only used a little bit. The end result was not the same as the photos posted by Ellena. Hers was thick and jam-like while mine looked watery like sauce. Nevertheless, I packed the Kiwifruit compote into a jam bottle and put into the fridge after it cooled down.


Felt like eating chawamushi and also wanted to use the new chawamushi cup that I bought from Daiso some time back so cooked that using my usual
chawamushi recipe
. The end result was very, very good with silky smooth surface. Using the cup yields better result than using a bowl covers with foil.

Couldn't help thinking about my failed Kiwifuit compote and so decided to turn it into Kiwifruit sorbet instead. Basically the Kiwifruit compote recipe is similar to a sorbet recipe just that the former didn't include water. So blended the Kiwifruit compote that I made, added a few tablespoons of water to it and stirred till well combined before putting it into the freezer. Took it out after a couple of hours to churn using a fork and repeated the process for two more times before freezing overnight.